Take control of your finances with Atomic Money
Managing personal finances can be a challenging and time-consuming task. However, with Atomic Money, tracking your expenses and maintaining a positive balance becomes effortless. We offer you an all-in-one solution that helps you monitor your money with ease*.
Get Started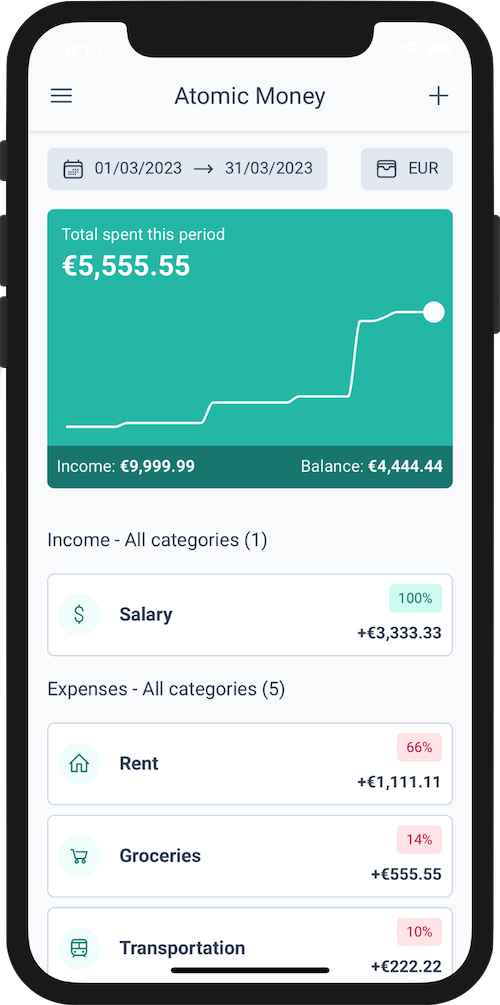 Day-to-day transactions
Whether you're grabbing a quick coffee, running an errand to the grocery store, making an online purchase, or need to keep track of any other expenses, Atomic Money has got you covered.
Multi-currency support
With Atomic Money, you can easily manage your finances in a variety of currencies, including Euro, US Dollar, Pound, Brazilian Real, Rupee, Yen, Peso, Krone, and many more.
Recurring transactions
From streaming services to rent, mortgage, monthly payments, insurances, and salary, Atomic Money streamlines your financial management by allowing you to set up your accounts just once, and we'll take care of the rest for you.
Categorize income and expenses
With Atomic Money, you can create custom categories to organize your income and expenses based on your preferences.
Completely free
Yes, you read that right - everything we offer at Atomic Money is completely free! There are no hidden fees or charges, so you can take advantage of our comprehensive expense tracker without worrying about any costs.